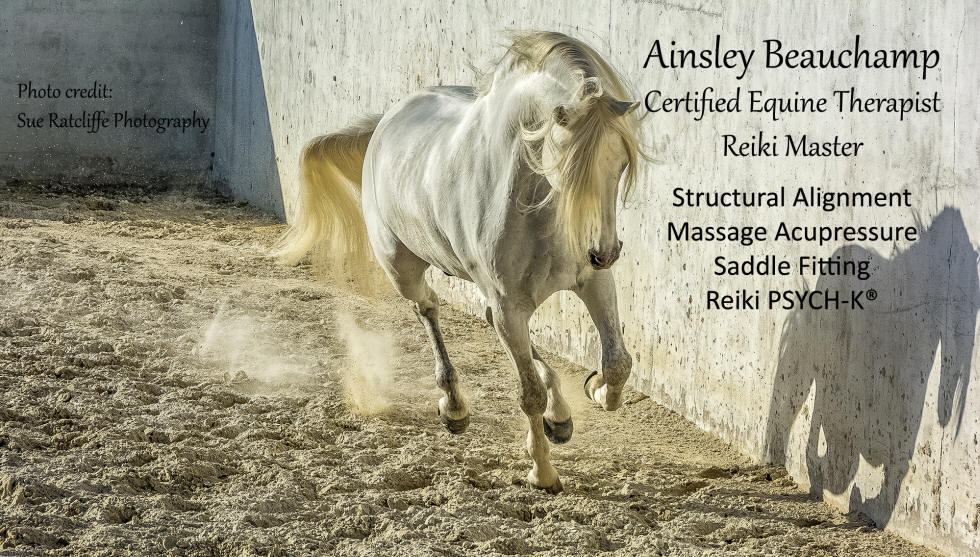 Home Services & Prices Energy Work Alpha-Stim Meet Ainsley Ainsley's Education
Testimonials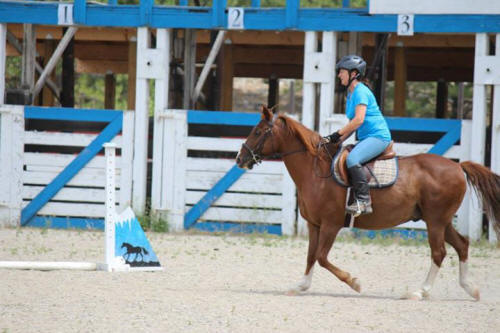 As we age, our minds don't always agree with that number and the same one our body has to deal with every morning. I often think I am still 25 and then I look in the mirror at my greying hair, laugh lines and less than flat and tight tummy. The sad realty can take you back a step, but soon you find yourself working around the changes time has made and you are out there attacking the world once again.
Our little horse, Dallas, has this same challenge. He still thinks he is a viral and stallionesque 9 year old, when in reality he is pushing 22 years of age. Up until a few years ago he took everything in stride and was happy to go on hour long trail rides in tough terrain while packing around a small adult. Dallas loved being at the front of the line or at least within nose nudge of his mares and would prance and work up a sweat if you tried to convince him differently. We marveled at his endurance and down right handsome show of male (gelded) posturing and the fact that the next day he was all ready to do it again. Dallas spent about 4 years being a therapeutic riding pony at the South Okanagan Therapy Riding Association and absolutely loved getting in the trailer to go over every Saturday to see his little buddies and get smothered with attention. Nobody ever believed he was in his late teens and early twenties. Life was great!
When Dallas hit about the age of 20 he started to have a little "off" movement. He wasn't lame, just wasn't 100% sound. He also started being less and less patient about the visits to the therapy program. He was a perfect gentleman when the small children were riding but in between sessions and in his trailer, he was fidgety and just unhappy. We decided to look at getting him some alternative therapy in the form of massage and chiropractic treatments. This is when we were introduced to Ainsley. She arrived and assessed and moved him and then started to go to work. At first Dallas could not have had bigger eyes or a more tight body. It only took a few minutes for him to understand what was happening and his head dropped, his eyes softened and he did one of those big, deep sighs that only a very relaxed and trusting horse can give you. You know the one that seems to sound like a toddler going to cry but ends in a big exhale and huge long fart. Ainsley helped to identify his arthritic changes and what they meant to his well-being and by passing that off to our veterinarian we were able to work with some great medications to give him even more relief and extend his riding days.
Dallas had many issues and still gets a little out of alignment but only because we still ride him and he still thinks he is the stallion of his dreams. The treatments he receives from Ainsley along with keeping him moving has brought the Dallas of 5 years ago back to us. He leaps, bucks and charges around with the horses half his age and is the ruler of his domain. (All 13.3 hands) Heck, he even took me safely and professionally around a jumping course more than once in 2014. As a nervous, green rider at the sport of jumping, it means the world to have little horse that can be there for you when you need him most. It was all I could do at times to control his energy and glee while approaching a cross rail!! So enjoyable to see a senior horse relive his youth that way.
Ainsley also treats our other horses and shows a great rapport and understanding in making them accepting of the treatments. We only have one horse out of four that is still not 100% relaxed but I know we will be working on that this season and she will come to fall asleep as fast as the others do during the massage portion of the visit.
I must mention that our two, bratty and annoying mini Sicilian Donkeys, Pete and Rosie, love Ainsley's visits too. Her magic bag of supplies and that step stool are just too much for the duo. Pete watches and then slowly and quietly backs his little butt up towards Ainsley for his turn with the magnet massager.
Many thanks Ainsley for your guidance, your great humor, talent at what you do and your genuine love for the animals.
Laura Dean
End of the Road Farm
Summerland BC
***
I acquired a 19-year-old mare, who was known by all who had owned or ridden her, to never urinate anywhere but in her home field. I found this very interesting and wondered if she needed to feel safe and relaxed in order to pee. But upon observing her urinating, I could see clearly that she was having to contort her back and squeeze extremely hard to get the urine out. It was obvious that she would be physiologically incapable of urinating with a person, or even a saddle, on her back. So I booked an appointment for her with Ainsley and told her what I had observed.
The really great thing about having Ainsley as my horse chiropractor is that she doesn't just treat the physical body, but she goes into the energetics, the meridian system, and mind/body connection. So as Ainsley was manually adjusting the pelvis and related structures, she also worked energetically to connect to the emotional events or trauma my mare was storing in her tissues and offered healing and release for those woundings as well.
Very soon after this first session, my mare began urinating outside of her home field, when on the lead line. After the end of her second session with Ainsley, we put her in the tie stall for a few minutes and she immediately peed a geyser (with normal-looking pelvic positioning). We praised her profusely - this is a horse that has NEVER peed indoors ever. Later that week, she urinated on the trail, with my daughter riding her. Considering the longstanding nature of this restriction, the speed with which she shifted was really remarkable.
My Andalusian mare (age 9) looks forward to Ainsley coming so much she does not even need to be haltered during her sessions. Horses are incredibly wise, connected beings and they so appreciate and enjoy Ainsley's respectful and multi-dimensional approach.
- Jini Patel Thompson, author of international bestseller, "Listen To Your Gut"
Langley, BC
***
About 15 months ago a covert operation was undertaken and I was able to rescue a very damaged horse from a terrible situation. This horse became known as 'Six' and together we started on the long road of rehabilitation. Progress has been slow and we have run into many stumbling blocks. My often busy work schedule, financial difficulties and my omnipresent health issues have certainly been a factor. The extent of Six's emotional damage became clearer over time and was far more severe than was initially thought (isn't that always the case). There were many failed experiments and I cried a lot (as I am known to do). However, through the support of many, including the amazing Ainsley Beauchamp who provided the physical therapy/healing magic that was instrumental in Six's progress, we have persevered and there is no doubt that dear Six is in a much better place now than he was. The discovery of his latent jumping talent was certainly a surprise but more importantly he is always a source of great joy as he continues in his recovery. We are far from where we wanted to be but we will continue on. Thank you all.
Rachel Innis
***
Even though everybody already knows how wonderful Ainsley is, I still want to publicly thank her for her generosity of time and spirit. The day she spent with the herd and I at Linda-Ann's yesterday was deeply healing for all of us, body mind and soul. This morning when I let them out for grass, the joy they took in movement and celebration was a beautiful testimonial to the effect Ainsley had here. Our lovely Gen, especially, was dancing and leaping like a filly twenty years younger. I am so grateful to know someone who can live their calling, who is truly gifted and, therefore, a gift to all of us, two- and four-legged, who have the pleasure of crossing her path.
Kesia Mei
Langley, BC
(Another perspective on the same mare, this one from the person who exercises her.)
So Gen's eyes were much brighter today - took her out for a little grazing date. So nice to have Gen back to herself! She came out of the stalls and met me at the hitching post with an eager look and licking and chewing today! And she keeps doing this funny thing where she executes her old habits that we've been working on (i.e. throwing all her weight through her right shoulder and stripping the rider of any power through sheer weight) but then a second later you can feel her go "Oh no, sorry! I didn't mean that - it's just habit!" and she takes it back, stands up straight and literally offers to step lightly to the left, or over the bridge, or whatever it was. I think you opened up some deep channels of "stuff" for her, she had to process is, and is now freer to leave it behind. Good work and thank you.
Carol Dymond
Langley, BC
***
Thought I'd send a short update on my mare, Austen. Since her adjustments she has been back to her good old self, maybe with some extra energy....She has ALSO been putting on weight!!!!! Her blanket no longer fits she has NEVER looked this good since we've had her, her weight was always an issue and we could never keep it on her.
I think you told me that an adjustment may help with her weight issue, and it sure did! She is on NO extra feed and has never been able to keep weight on without beet pulp or a hi fat feed plus or alfalfa hay.
Aimee
Penticton, BC
***
Just wanted to drop you a note to say that Penny was AMAZING at the show last weekend! She won us a first in the 2'3" course and a fourth in the 2'6" (would've gotten better if I had ridden her faster, so that's all my fault). When we had a good rhythm, particularly in the 2'3" course, she got all of her leads right. Yay! The Judge loved her.
Thanks so much for your awesome work on Penny!
Jenna Pearce
Summerland, BC
***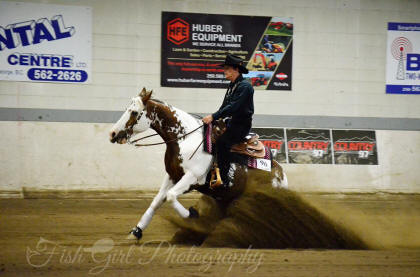 Thanks again for making time for us today...you are truly a godsend. I feel so much better now...not to mention how much better Spade must feel. And Chico loves his Auntie Ainsley, too! Thanks!
Nancy Leland
Princeton, BC
***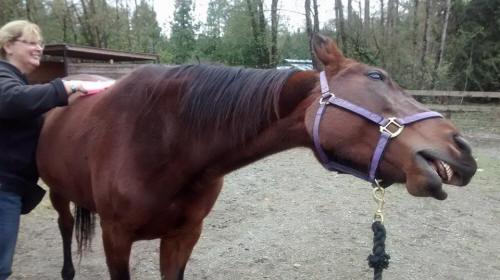 This is my 9 year old Standardbred mare Lily. I've had her for 4 years. She came to me not liking people much, and not having much in the way of training that helped her to understand what was expected of her. She was nervous, and reactive, and didn't like to be touched or groomed. She especially hated to have her chest or belly touched...I have scars on my right forearm in the shape of large molars....
With the help of a consistent routine, lots of turnout, a couple of horse friends, patient and consistent training, and body work treatments with Ainsley, we have come a long long way. The first few visits from Ainsley involved a lot of ear pinning, threatening to kick and bite, and squealing. Now those visits are much quieter and safer, and are more likely to involve Lily leaning in for more, even attempting to swing a hip up on the stool with Ainsley in order to maximize the massage.
She is still very expressive, and I never have to guess how she is feeling, but she has learned much more appropriate ways to express herself, thanks largely to being so much more comfortable. She will come when I whistle and call her, and hop happily in the trailer and we have had some pretty awesome adventures together.
I am looking forward to many more, and am very happy to have Ainsley to help keep her happy and feeling her best.
Melody Pearson
Langley, BC
***
Hello Miss Ainsley… just a quick follow up to let you know that Zippy has had a big shift since your work with him….his busy-ness has decreased and there is a calmness about him….subtle but there…I haven't had enough time to spend with Selena yet but will report my observations…we look forward to seeing you at the beginning of December.
Carla Webb
Abbottsford, BC
***
Love this lady ;) I and my horse have benefited from her amazing treatments on more than one occasion. Highly recommend!
Danica Coombes
Merritt, BC
***
My horses love their visits with Ainsley and are so relaxed with her.
Karrie Crucil
Princeton, BC
***
Ainsley does amazing work. My now pain free mare loves when she comes for a visit.
Tanya Martin
Langley, BC
***
Ainsley is amazing! My mare Mysti is very nervous and timid around strangers.. But Ainsley was very patient and relaxed around her, which rubbed off of Mysti. She was having issues with her hind end.. Stumbling, couldn't hold a gait, standing with her legs tucked under.. After the first session she was a thousand times better. I will definitely be continuing to have her out for Mysti and future horses. I highly recommend Ainsley! :)
Amanda Harnden
Oyama, BC
***
Heya, so you made Sidar into a new horse! Rode him today, briefly, and he feels stronger in the hind and smoother, and, wait for it, bends left! (That must be your most frequent progress report item!). He even did pole bending around those arena roof supports!
Carol Dymond
Langley, BC
***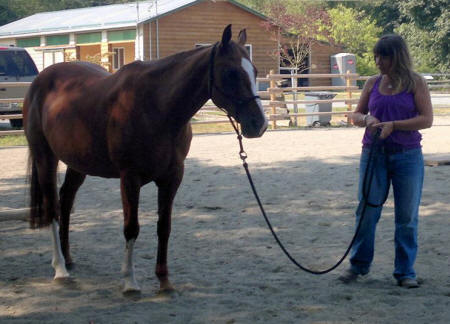 I have owned Annie for 6 years now, she is the apple of my eyes and when she is happy, I am happy. Before Ainsley "came into our lives", Annie would often get very sore in the shoulders and her hips. You see, Annie is built downhill, so she carries most of the weight in the front stopping her forwardness. Since Ainsley has come into our lives and works her magic on my little red mare, Annie has regain her "Let's go!" attitude. Ainsley has also showed me stretches i can work on to maintain Annie's well-being until our next visits. Ainsley's knowledge and professionalism are outstanding and I am so thankful for all the good work she does on my girl.
Stephanie Barthe-Evans
Langley, BC
***
Quite simply, Ainsley has a way with horses. I've ridden in the mountains with her, traversing treacherous terrain, and sat quietly by a creek with a herd grazing around us. From peak to pasture, under saddle or on the ground, horses gravitate to her. They trust her. Ainsley knows how to be a leader, a healer and a friend and in her company, horses feel safe. I believe this is in part due to her extensive training and background, but also, and perhaps most importantly, Ainsley loves horses, and it shows.
Sandra Wallin, MA of Chiron's Way Centre for Equine Guided Developement
Mapleridge, BC
***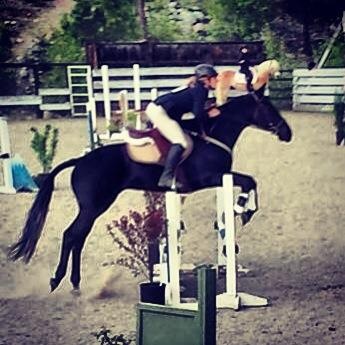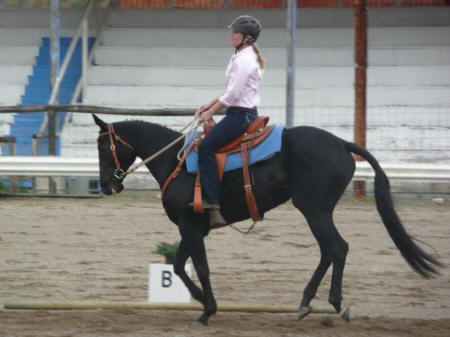 To say my mare has had some misalignment issues is an understatement. The original injury occurred a year ago so I had her adjusted by a vet chiro as well as an equine therapist. They were able to speed up the recovery process and I was very pleased with the results.
Being from a small town I was paying a lot of money to truck my horse to the chiropractor and or paying large call out fees. When I heard that someone local was offering treatments I immediately book an appointment.
I have to say there is no comparing Ainsley to the first two. Mechanically speaking I feel they all where successful in making effective adjustments, but Ainsley was able to bring something completely different to the table.
If a stranger had walked in on the session they would have assumed she was working with her own horse. She has a heart of gold and there is no mistaking her passion and love for horses, she truly has the horses very best interest at heart and comes to the session without any agenda, simply to facilitate healing on the horses terms not her own.
It was so lovely to see my typically sensitive and very untrusting mare melt into putty beneath her hands.
She was constantly licking, chewing and yawning. None of which where present in her previous chiro visits.
Ainsley took her time to really read the horse and allow pauses for releases and never rushed or put the horse in an uncomfortable situation. It was all on the horse's time and I feel that's what sets her apart from the others.
Agenda and ego have no place in Ainsley's work, and the result is a soft, relaxed horse whose body is physically ready to be manipulated thus the adjustments are more effective and hold better.
Ainsley's sessions go so much deeper than chiropractics. Her skills sets are fascinating and endless and she is introducing healing on a whole new level. It's an experience I won't soon forget.
Forever grateful....
Stephanie Antonick
Princeton. BC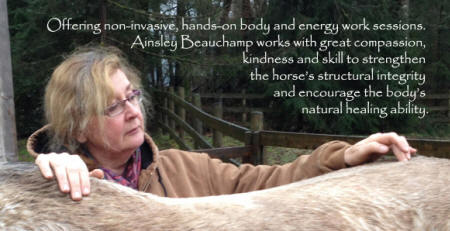 Ainsley Beauchamp (250) 295-7432
124 Pinewood Crescent cell (250) 293-6959
RR#1, Site 19, Compartment 19
Princeton, B.C., Canada
V0X 1W0